Title:

Journeyman

Developer:
Start Software
Category:

Customer Relationship

Description:
Journeyman is a sophisticated yet easy-to-use contact, opportunity and lead management system built in Alpha using Microsoft SQL Server. Complete with graphical dashboards, task lists, unlimited notes and reminders, Journeyman rivals other CRM packages for features whilst being more friendly and accessible to occasional users.

Fully integrated with Google Maps, all Journeyman data is location-aware helping users to plan visits or meetings with prospects and clients. Journeyman tracks the "journey" a prospect takes through to becoming a client on a customisable list of events and milestones completed along the way. Powerful customisation features enable system administrators to customise the way that Journeyman works to suit any business.
Title:

Survey Tracker

Developer:
Start Software
Category:

Surveys

Description:
Survey Tracker was built to enable an International property management business to log and track requests for asbestos surveys.

The requests are received (through the online system) by environmental/asbestos consultancies who then respond, survey the property, and upload the finished report all within the system.

Survey Tracker has a "ticking clock" to ensure the jobs are completed on time and has a colour coded system to flag overdue jobs. It is also fully location-aware within integrated Google mapping and features our integrated help system and user-customisable dashboards.
Title:

Trimadvisor.com

Developer:
Start Software
Category:

SEO

Description:

Trimadvisor.com is the UK's leading search engine for men's hairdressers (barbers).

Trimadvisor enables prospective customers to search for a barber using a variety of criteria including location (using Google Maps). Trimadvisor already has over 1,000 UK barbers listed with a growing number of "featured barbers" with mini web-sites including price lists, opening times, interior photos and customer comments.

Trimadvisor.com - the search engine for the UK's best barbers.
Title:

Alpha Portal

Developer:
Start Software
Category:

Customer Relationship

Description:

The Alpha Portal enables customers of a leading asbestos consultancy to access their data and documents via the web.

Written in Alpha Anywhere, the system is mobile-friendly and enables asbestos reports and asbestos sample data to be access from any web-connected device (desktop browser, smartphone or tablet).
Title:

Alpha Tracker

Developer:
Start Software
Category:

Environmental

Description:
Alpha Tracker is the latest incarnation of Tracker, the UK's leading system for environmental and asbestos consultancies.
Alpha Tracker is a web-based system developed in Alpha Anwhere and SQL Server enabling environmental consultancies to manage all aspects of their business, including:

customer and contact management
quotations and proposals
order processing
project and job tracking
scheduling (linked to Google calendars)
on-site data capture
lab data entry
automated report production into Word and PDF
invoicing including links to Sage.

Alpha Tracker is easy to use, fast and very flexible making it suitable for all environmental, asbestos and health-and-safety consultanies.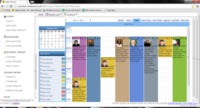 Title:

Customer Support Portal

Developer:
Start Software
Category:

Customer Service

Description:
Our own customer support portal has been coded entirely within Alpha Anywhere.
The portal allows customer to:

log and confirm quotes
log and chase support calls
view their ongoing projects
view their invoices received
request help and support.

The support portal is a fundamental part of our Alpha Tracker system, a comprehensive "ERP" or workflow management system for all types of businesses.
| | |
| --- | --- |
| Title: | Yellowbike Electric Bike Rentals |
| Developer: | Start Software |
| Category: | Inventory |
| Description: | Yellowbike (http://yellowbike.org.uk) are a specialist electric bicycle rental business in the UK. We developed their online booking and back-end reservation system using a combination of web techniques including Alpha Anywhere. Yellowbike's web site is Google Map enabled giving customers the option of choosing a rental site by map or by list of locations, and the site leads the customer through the booking right up to point of integrating fully with Sage Pay. |
Title:

Homeworks LIVE

Developer:
Start Software
Category:

Insurance

Description:
Homeworks LIVE is a quote, order, diary and invoicing system for a busy UK-wide business handling insurance claims.
Developed using SQL Server and Alpha Anywhere, it is entirely web-based and it enables the Homeworks team to track all aspects of their business with on-site "in the field" data capture and fully automated document production.
Complete with dashboards, automated emailing, colour-coded project tracking and alerts working against a project timeline, is a comprehensive and fully integrated system.